Don Hutson's arrival to the Green Bay Packers was one of the single most important draft picks in the NFL. Two teams were interested in Don Hutson, the Green Bay Packers and the Brooklyn Dodgers. Seventeen minutes was the deciding factor on Hutson going to the Green Bay Packers instead of the Brooklyn Dodgers. 1 The Brooklyn Dodgers were not a forward pass team in the 1930s and may not have used Hutson's skills properly. Had Hutson not been under the genius mind of Lambeau, the forward pass may have never been mastered so early in the NFL.  
The year was 1935 and Don Hutson made his debut against the Chicago Bears, and scored his first touchdown pass from Arnie Herber for 83 yards. Those were the only points scored in the game to beat the Bears. From that moment on Lambeau had found his missing ingredient for his vision of the forward pass. During this time Don Hutson was called an end, which later get renamed the receiver or wide receiver. The end would form on the end of the offensive line.  
In Hutson's tenure with the Packers he created many of the modern run routes such as Z-outs, buttonhooks, hook-and-gos, and a whole catalog of moves and fakes. 2 On the field he was impossible to cover, many of the routes he ran no one had ever seen and did not know which way he would go. As one journalist said, "It was said that there wasn't a single defender in Hutson's era who could cover him one-on-one. Not one." 3 Since Hutson created the position there was no "standard" way to cover him and no one else at the time used the forward pass as heavily as Lambeau, making it harder to practice for the other team.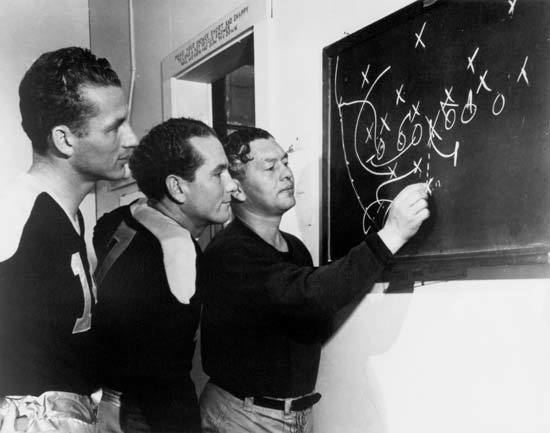 Do you think Don Hutson would've made the same impact on the NFL if he had played for the Brooklyn Dodgers?
William Povletich,

Green Bay Packers: Trials, Triumphs, and Tradition (Madison: Wisconsin Historical Society Press, 2012), 

41).
Bryn Swartz, "Why Jerry Rice Is NOT the Greatest Wide Receiver in NFL History." Bleacher Report, October 03, 2017. Accessed November 25, 2018.
"Don Hutson." Pro Football Hall of Fame, Accessed November 25, 2018.

https://www.profootballhof.com/players/don-hutson/

.